KeepnTrack can help you meet your state's COVID-19 requirements for tracking, screening and reporting campus visitors, faculty and students

We're committed to your privacy. KeepnTrack uses this information to contact you about relevant content, products, and services. You may unsubscribe at any time. For more information, check out our Privacy Policy.
Are You Screening Visitors & Volunteers due to Covid-19 State Guidelines?
---
Contact tracing doesn't need to be intimidating or rely on intrusive tracking technologies that monitor your every move. Our customizable contact tracing solution protects you, your students and staff while supporting public health efforts to slow the spread of COVID-19.
KeepnTrack Visitor Management System gives you full control – you decide when and where you use it. We've created a solution that allows you to quickly quickly and easily identify individuals who may have been exposed, before they enter your campus and notify visitors, volunteers, students and staff if they were exposed to COVID-19 during specific activities and in specific places.
Screen, Identify + Alert
Here is a snapshot of just some of our powerful features.

---
Screen Visitors
Quickly record temperatures and questionnaire responses of all visitors

---
Quickly Identify
Colored and bar-coded badges identify screened visitors, and their purpose on campus.

---
Focused Alerts
Send alerts to anyone who may have been exposed based on time, facility or activity.

---
Self Service Sign-In
Returning visitor? Let them sign in and out in a breeze with self-service check-in.

---
Capture Photos
Conveniently capture and store visitors' images as an added security measure.

---
24/7 Live Support
Any person in your organization, any question, at any time - we're here for you.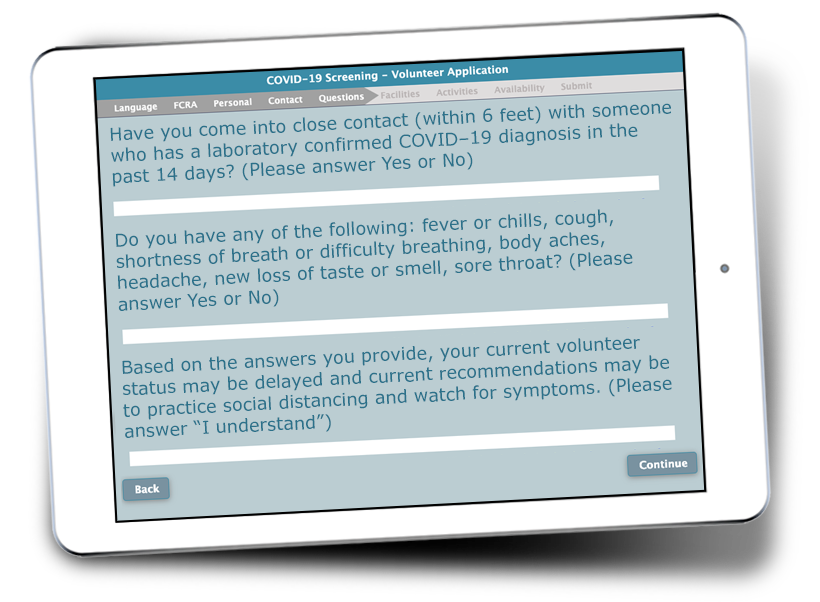 ---
Mitigate Risk with KeepnTrack!
---
Improve Screening
Take a proactive approach to campus safety by vetting every individual who enters your facility, while storing information about their visit.
---
Empower Staff
Give administrators the tools and information to make accurate decisions related to every area of person management on campus, in real-time.
---
Focus on What Matters
Save time and resources by automating data capture and retrieval, allowing staff to accomplish their primary responsibilities without interruptions.
Keepntrack has been a pleasure to work with whenever we've had questions or issues. They're polite and professional on the phone and always work hard to find a solution to problems.

KeepNTrack is a recent addition to one of our campuses and it has worked really well for us so far. We had a few bumps early on getting things to work how we wanted, but it's way better than the binder we were using, now that the issues have been ironed out. The multi-language option has also been great, since a large number of our students' parents speak only Spanish. I definitely would recommend this software to other schools!

They are so quick to help and are so patient with me while they troubleshoot any problems I'm having.

Someone actually answers the phone every time we call. Tech support is awesome and works hard to ensure we have all questions answered.

Keepntrack allows us to ensure we know who is entering our schools. It is easy to use, and has done a great job in keeping our buildings safe.

Saves us time, makes life easier.

I oversaw the daily use of this program to monitor visitors to a 2,000 student high school. Over the course of three years of use we never had an issue that kept us from performing the important function of checking entering visitors. We had a few times each month that a red flag would be raised, but we never had a problem because we were notified and able to individually monitor the location of each of these visitors.

My school uses KeepnTrack to check students in and out of clubs, study hall, etc. It's very difficult to keep track of 700 students whose schedules change weekly, sometimes daily.

Very rarely do you find a software which is not sold as custom but seeks to include your input so thoroughly.

We have been using KeepnTrack for 6 years and it has been a great addition to our charter school. We can track all the volunteer hours for the year, which is handy when applying for grants.
KeepnTrack is transforming visitor management.
Want to see the full list of features and benefits? Click the link.