In 1987, the United States Congress declared the entire month of March as National Women's History Month. Alongside celebrating women's history month in the United States, over 100 countries around the world celebrate International Women's Day on March 8th.  In honor of women across the world, in our past and to our future, we would like to share our Malala Yousafzai poster. Decorate your school office, walls, and hallways to celebrate the achievements of women around the world.
Who is Malala Yousafzai?
At the age of 17, Malala Yousafzai became the youngest person to receive the Nobel Peace Prize. She was nominated in March of 2014 for her education activism in Pakistan. Born in Mingora, Pakistan in 1997, Malala attended the school her father had founded. After the Taliban began attacking schools and taking control of the Swat Valley, Malala gave a speech titled "How dare the Taliban take away my basic right to education?" In 2009 under a different identity, Malala Yousafzai began blogging for BBC about living under the Taliban control. However, Yousafzai's true identity was revealed and the Taliban began to threaten Yousafzai's life.
In October of 2012, 15-year-old Malala was shot on her bus ride home from school. The shooting left Malala in critical condition, for the bullet entered the left side of her head and traveled down her neck. Malala's story resulted in a massive outpour of support. The Taliban still considers Yousafzai a target, for she remains a staunch advocate for the power of education.
On her 16th birthday, Yousafzai gave a speech at the United Nations. She highlighted education and women's rights by urging world leaders to change their policies. Yousafzai speech also urged action against illiteracy, poverty, and terrorism.
Malala Yousafzai Poster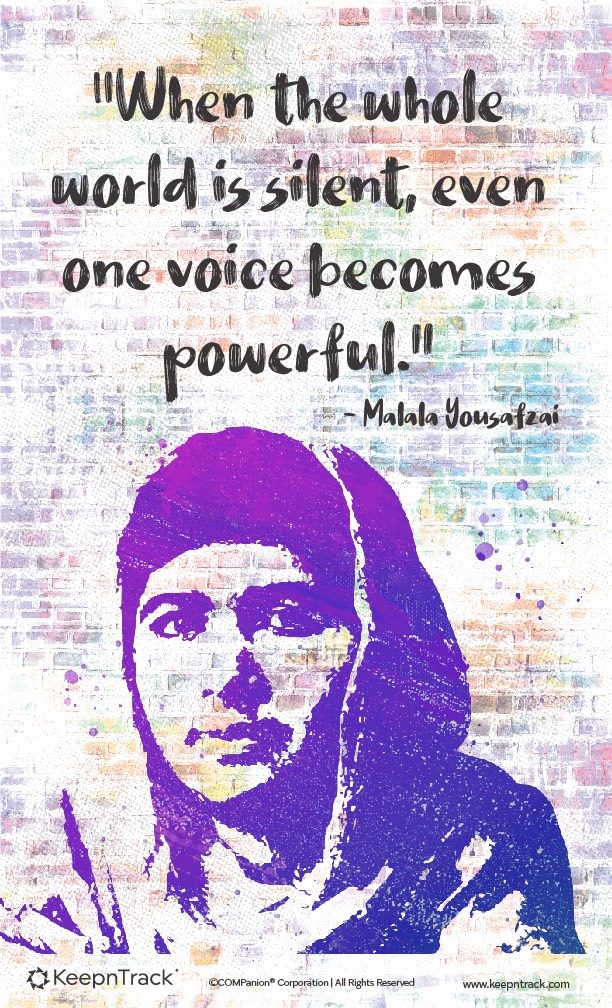 Download the poster!
8 x 11                                                                        8 x 14