April is National Volunteer Month!
During the month of April celebrate the work and time volunteers donated to your programs. Whether you have a small group of parent volunteers or a community network, it's important to acknowledge volunteer contributions and achievements. Honor volunteers and encourage students, staff, and faculty to volunteer during April. Be sure to download and decorate your school office with our volunteer poster to cultivate a culture of service at your school.
National Volunteer Week
April 15th – 21st is National Volunteer Week, don't forget to show your volunteers extra gratitude during this week! Make sure to check out 5 Ways You Can Acknowledge Volunteers' Contributions!
Volunteer Poster for National Volunteer Month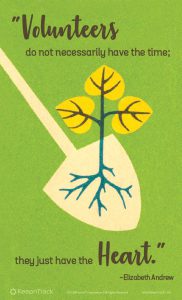 Download the poster!